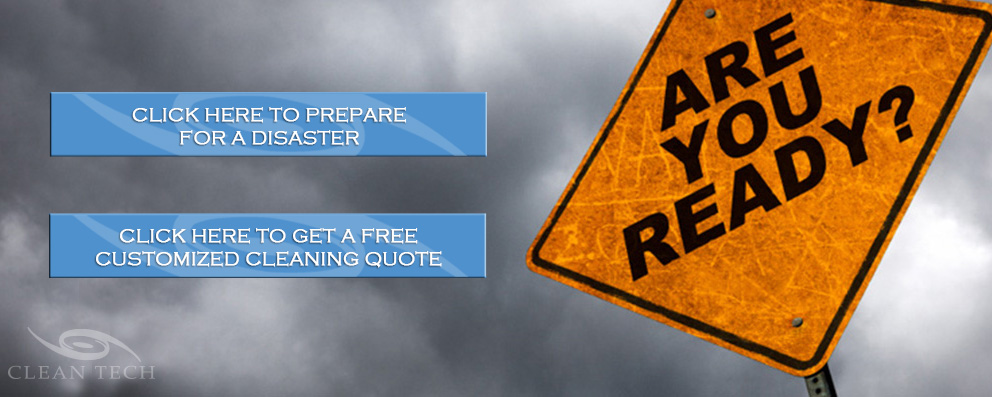 Don't wait for a disaster to make a plan, Prepare Now!
Free customer cleaning/janitorial quotes! Contact us today!
We live in a world with many challenges. A disaster such as a flood, fire, hurricane or damaging storm can affect your family, home and business. When the things that are most important to you are in distress contact Clean Tech. Your call will mobilize our team of professionals quickly and efficiently to get your life back to normal.
Over the last 20 years, Clean Tech has assisted large corporations, financial institutions, shopping centers, municipal properties, multifamily units and resort properties with local and national disaster mitigation. Resulting in long term business relationships and satisfied clients.
We understand the stress and uncertainty that comes with such traumatic events, when disaster strikes your emergency becomes our emergency.
Clean Tech's Disaster Restoration Services Include:
24/7 Emergency Response
Disaster Restoration
Water Damage Disaster Restoration
Fire Damage Disaster Restoration
Wind Damage Disaster Restoration
Water Extraction
Emergency Power

Debris Removal
Site & Structure Protection
Temporary Roofing
Catastrophe Restoration and Mitigation
Smoke Damage Disaster Restoration
Content Protection & Storage

Uniformed Staff
Vast inventory of Drying Equipment
Dehumidification
HVAC Duct Cleaning
Mold & Mildew Remediation
Odor Removal
Post Construction Clean up
Water Damage Disaster Restoration
In the event of a flood, hurricane or failed equipment, or leaky roof our team is prepared to assist you day or night. Clean Tech has a 24 hour staff ready to receive your call and dispatch the appropriate restoration crew. While we assemble the trucks, equipment and team, our clean tech representative will collect essential information regarding your disaster in order to brief our team. When we arrive, our team will secure the property and address any safety issues or continuing water intrusions. After we secure the project manager will assess the job site and quickly evaluate the degree of damage using sophisticated equipment and techniques. After assessment we can determine the most appropriate and effective strategy to clean and dry your property back to pre-loss conditions. During this process our team will provide updates and advice to keep you safe and informed as well as address any questions or concerns you may have.
National Catastrophe Responses
Clean Tech maintains one of the largest inventories of water damage restoration equipment in the United States to service our community as well as the nation. We have the experience, staff and equipment to assist in large loss and catastrophic events such as regional flooding and hurricanes. Our Catastrophe Response Crew can be pre-dispatched with the staff and equipment in preparation for a major event or with a phone call our team can mobilize within hours and initial site assessment anywhere in the county within 24 hours.
Mold Remediation
At Clean Tech our main goal is prevention and the key to prevention is controlling the environment by utilizing proper dehumidification and ventilation techniques. However, mold and microbial damage can and will occur resulting in poor indoor air quality. Our technicians are trained to detect and remediate mold and mildew from contents and structures to protect your property, employees and family. If you have found mold or suspect your structure may be contaminated, contact Clean Tech today.
Air Duct Cleaning
One of the most overlooked areas of a structure is the heating and cooling ductwork. These air handling systems usually contain as much space as an average sized room. Although out of sight, they are always working to circulate air in your building. These systems can be affected by disasters such as fire and water or simply dust and particle buildup over time. Your air duct system can harbor pollutants, bacteria, allergens and mold that you are exposed to and can be life-threatening. Our team can access the duct system using cameras, brushes and high capacity vacuums to apply a negative air pressure to your system. Then the system is sanitized and deodorized to return your home or office ventilation to a more hygienic condition.
Call for more Information.
Fire Damage Disaster Restoration
When it comes to fire restoration few companies are as well equipped to handle the loss a fire can bring. Not only are you dealing with the charred and partially damaged structural components, but also debris removal, odor control, water removal, moisture control and mold prevention. Clean tech can assist in the cleanup and prepare your property for reconstruction.
Storm Damage Disaster Restoration
With the many elements of a storm your property can be affected in countless ways. Wind can damage your roof, siding, and impale water into the structure of your building. It can uproot trees, snap limbs and interrupt electrical services. In addition hail, snow and ice can cause their own unique set of challenges. With over 30 years of business Clean Tech has seen the effects a store can bring to an individual, business and community and has built a trusted team and inventory of equipment to help you when you need it most.